Press Release: When an SFF Network article is marked as a press release, it is copied verbatim from marketing materials supplied by the company. It does not represent the views or opinions of SFF Network or it's staff.
—
Noctua confirms AM5 heatsink compatibility and announces free-of-charge upgrades for low-profile coolers and older heatsink models
Vienna, September 22nd – Noctua today confirmed that all its CPU coolers and mounting-kits that support AMD AM4 also support the upcoming AM5 socket, except the NH-L9a-AM4 low-profile cooler and the NM-AM4-L9aL9i mounting-kit. For the latter, Noctua announced the new NM-AM5-L9aL9i kit that will be available free-of-charge from end of October. Mounting upgrade kits for older heatsink models that do not yet support AM4 will also be provided to customers at no additional cost.
"We have offered free-of-charge mounting upgrade kits to our customers ever since AMD introduced AM2 in 2006, and we're proudly continuing this tradition with the upcoming Ryzen 7000 series processors and their new AM5 socket", says Roland Mossig (Noctua CEO). "While all our current multi-socket coolers already support AM5 out of the box and don't require any updates, customers will be able to upgrade the NH-L9a as well as most older coolers at no additional cost, so even 15-year-old coolers can be used on the latest processors!"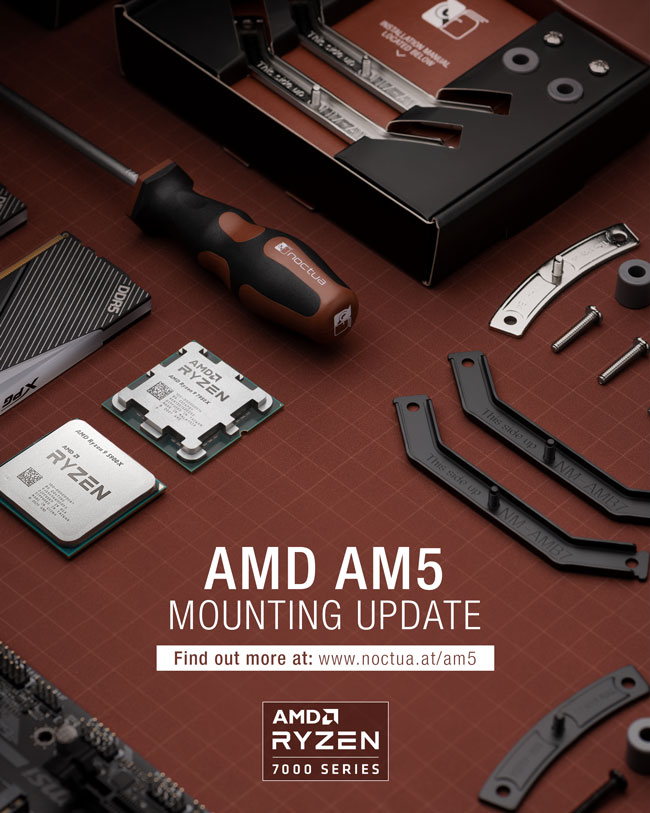 AM5 (LGA1718) is AMD's upcoming socket for its next-generation Ryzen 7000 (Zen 4) series processors. In short, all Noctua coolers and mounting-kits that support AM4 are upwards compatible with socket AM5, except the NH-L9a-AM4 and the NM-AM4-L9aL9i.
All Noctua AM4 mountings except the ones of the NH-L9a-AM4 and the NM-AM4-L9aL9i attach to the threads of the standard AM4 stock backplate. Since these backplate threads and their pattern are identical on AM4 and AM5, our AM4 mountings that attach to the standard AMD backplate also support AM5.
This means that all SE-AM4 models as well as all Noctua multi-socket coolers purchased since 01/2019 already support socket AM5. Multi-socket coolers purchased before this date that have already been upgraded to AM4 using the NM-AM4 or NM-AM4-UxS kits also require no further upgrades. Older multi-socket coolers that have been purchased before 2019 and have not yet been upgraded to AM4 can be made compatible with AM5 using these upgrade kits. For easier identification, the NM-AM4 or NM-AM4-UxS kits will be renamed to NM-AM5/4-MP83 (for coolers with 83mm mounting pitch) and NM-AM5/4-MP78 (for coolers with 78mm mounting pitch).
The socket compatibility overview in the Noctua Compatibility Centre (NCC) allows customers to see at a glance which Noctua CPU cooler models support socket AM5 out of the box or via mounting upgrade kits and which upgrade kit is required for which cooler model. The AM5 motherboard compatibility list is currently being built up and will be expanded over the coming weeks so that customers can verify that their cooler is fully compatible with their new AM5 motherboard.
For ordering the mounting-kits free of charge via Noctua's website, a proof of purchase of both an eligible Noctua CPU cooler and either an AM5/4 CPU or an AM5/4 motherboard will be required. Depending on the country, express shipping options may be available but will be subject to service charges. Alternatively, customers who need the kits urgently will be able to purchase them on Amazon for a suggested service charge of EUR/USD 7.90.
"Using a CPU cooler across several platform generations instead of buying a new heatsink for each generation is not only economical, but also helps to reduce unnecessary waste and save precious resources", explains Roland Mossig (Noctua CEO). "By upgrading rather than replacing your cooler, you're actively contributing to a more sustainable PC industry!"
The NH-L9a-AM4 and the NM-AM4-L9aL9i are not compatible with AM5 because they require replacing the standard AMD backplate with a custom one, which isn't possible on AM5. Therefore, Noctua has announced the new NM-AM5-L9aL9i mounting-kit that will allow the NH-L9a, NH-L9a-AM4 and NH-L9i heatsinks to be upgraded to AM5. The NH-L9i-17xx cannot be used because it has been tailored to the different height specifications of the LGA17xx platform. Like the other mounting-kits, the NM-AM5-L9aL9i will be available free of charge via Noctua.at (from end of October). A new version of the NH-L9a cooler that already includes AM5 mounting hardware is planned for Q1 2023.
Links
NM-AM5/4-MP83
NM-AM5/4-MP78
NM-AM5/4-MP83 chromax.black
NM-AM5/4-MP78 chromax.black
NM-AM5-L9aL9i (available from end of October)
Socket compatibility overview (Noctua Compatibility Centre)
AM5 motherboard compatibility (Noctua Compatibility Centre)
FAQ: How can I check if my Noctua CPU cooler already includes AM4/5 mounting parts?
FAQ: 83mm (MP83) vs. 78mm (MP78) mounting pitch, which kit do I need?
About Noctua
Designed in Austria, Noctua's premium cooling components are internationally renowned for their superb quietness, exceptional performance and thoroughgoing quality. Having received more than 6000 awards and recommendations from leading hardware websites and magazines, Noctua's fans and heatsinks are serving hundreds of thousands of satisfied customers around the globe.